STOCK
We have quite an extensive stock. It is currently held by
Debbie Newell
and
Judy Reid
. You must email either of them to order clothing.
Put the size and quantity you would like. Most items are usually available, see the list of prices below. If you want something specific, you must order it.
Ordering
The full range of Endura's Custom clothing is open to members. Members may order any item from the range, simply take a look at Endura's online

catalogue

.
Note that men's shorts are no longer available, just bib-shorts. Minimum order quantity is now 3 of an item; we may have to get back to you if you order something unusual.
Sizing
The sizing is from XS, up to XXL. The range caters for women as well for shorts and tops. Items are a little smaller than people expect, so unless you are certain, go for the next one up. We carry a small stock of items that can be bought most Tuesday nights in the clubroom, so you can pop down and try on for size.
History
In 2011 we redesigned the clothing to bring it up to date. We also changed supplier to Endura in Scotland.  It had to be done as our long and loyal sponsorship with Compomotive was coming to an end, so we were in need or redesigning the strip without the sponsors name. After quite a lot of debate and negotiation amongst our members and good design mostly by Tom Neill & Tim Davies, we came up with this;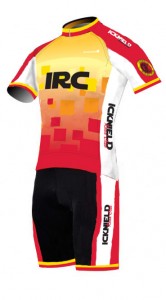 Basic Item Prices
| | |
| --- | --- |
| Item. All available in womens and mens cut. | Price |
| Road Jersey s/s full zip | £33 |
| Road Jersey l/s full zip | £38 |
| WT Road Jersey s/s full zip | £53 |
| WT Road Jersey l/s full zip | £60 |
| Roubaix Winter Jacket | £42 |
| Windtex Jacket – NO LONGER AVAILABLE | £53 |
| WT Winter Jacket | £65 |
| Compact Premium Gilet | £30 |
| Ultra Packable | £40 |
| Skinsuit s/s | £61 |
| Skinsuit l/s (pocket extra £3) | £65 |
| WT ls speedsuit | £107 |
| Premium Bib shorts | £55 |
| WT bibshorts | £73 |
| Shorts – NO LONGER AVAILABLE | NA |
| Biblongs with pad | £50 |
| Armwarmers | £15 |
| Legwarmers | £21 |
| Mitts | £15 |
| Buff | £9 |
| Kids size tops (£22) and shorts | £24 |
| WT Overshoes | £24 |
long zip supplement £3 approx