IRC Spring Sportive 2017 – 30th April

Click here to see the flyer in more detail
The Buckingham Sportive – 2nd April
Fancy a warm-up for the IRC Sportive? Why not consider this offering from
Purple Patch Running
?
Brake Pads and Blocks – 7th February
Tips on how to change brake pads and blocks down at the clubroom.
Wonky Wheels at the Clubroom – 17th January
Head down to the clubroom on Tuesday to learn how to true you wonky wheels. Bringing your own multi-tool is recommended.
IRC Curry Night – 21st January
Raj-Gate in Ampthill for 2030, meeting at the Old Sun Inn from 1900 if you fancy an early drink. Contact Dave Newell for details.
Evening TT League
Members are encouraged to put their names down on the list for duties. Please contact Nick Jones.
Tuesday Evening rides 2017
These are planned to begin again around the end of March, when the evenings start to brighten.
IRC AGM – 31st January
Come along and make your voice heard.
Custodian for Marshalling Jackets and Race Numbers
We need a new custodian for the clubs marshalling jackets and race number. See Gordon Hart for further details.
NDCA & Millennium Trophy
Did you know that the IRC were a founding member and still affiliated to the Northampton & District Cycling Association? A series of events are organised from April through to September, incorporating points competitions, etc. See
NDCA
 for further details. The Millennium Trophy is a prestigious competition devised and introduced by Doug Eager of the IRC. It is made up of a number of sporting time trials incorporating competitions for men, women, vets, juniors and teams. The IRC was well represented in 2016 with Tim Davies claiming the veterans title, the IRC men claiming the men's team prize at the IRC event, coming 3rd overall in the series men's team event and also claiming a couple of 'Lantern Rouge' to boot! See
Millenium Trophy
 for further details.
Racing Meeting – 24th January
Time to discuss racing across all disciplines! What is available? How can we organise ourselves? All welcome, it should be an interesting evening.
Prudential Ride 100 preparation rides
After last years successful rides, Jayne Raynor is planning further runs for this year!
Chiltern Classics Reliability Rides 2017
Running from the 22nd January until the 26th of February the Chiltern classics series is a great way to test your fitness and train for the coming season. See
Chiltern Classics 2017
 for further details.
Club Runs 2017
The club are looking for volunteers to be a second ride leader. Interested parties should contact Nigel Cole. A group averaging 18/19mph over 50/60 miles meet most Sundays at 0830 at the roundabout at the top  of Barton cutting. This is a training ride with no stopping, nor waiting if you can't keep up the pace. However, everyone is welcome to give it a try. Contact Tim Davies for further details.
IRC Road Race – 16th April 2017
The course will be Great Barford. HQ Great Barford Village Hall. Category 2, 3 & 4 event of 6 laps, and 57 miles. We will need our members to help host the event, run by Tim Davies. If you fancy yourself as a lead car driver, signing on steward, race service or most importantly a marshall, please let Tim know. More info will be available as it develops.
Revised date for IRC Inter Club 10
Date moved from the 22nd April to the 5th of August 2017.
John Lee and the IRC on Anglian News
See John and comments on his unique achievements at 
itv.com
2017 Subscriptions now overdue
The subscription rates are,  Juveniles (under 16)  £5,   Junior  16 & 17  £ 9,   Senior Citizens (over 65)  £ 13,  Family  £ 30 and Seniors  £ 20. Subscriptions should be given to the membership secretary Sharon Davey.
IRC AGM
31st January 2017 at 1930.
Marshalling Duty List
The calendar for 2017's evening league is available at the clubroom on Tuesday evenings for you to put your name down on your preferred dates. Alternatively email Nick Jones with your preferred dates. 
Spinning Sessions
Friday spinning sessions shall resume in the new year. See Chris Jenkins for further details.
2017 Sportive date announced
The 2017 sportive shall take place on Sunday the 30th of April. Visit the Events page for further details and link to British Cycling Website where you can sign up.You can also sign up Tuesday nights at club room
Cyclocross Organisers
Volunteers are being sought to organise the IRC Cyclocross event in 2017, with Ray Morgans guidance of course. Two of the volunteers may join Ray at the wrap-up review meeting of the 2016-17 season (late February/Early March), where the organisation of 2017's event shall begin.
New Club Record!!!
A new womens Icknield Road Club record for 30 miles was created on the 26th of June 2016 of 5:02:33 at the Inter Club TT organised by the Hitchin Nomads. Judy Reid – 1:32:28, Su-Anne Bullock – 1:43:49 & Christine Tovey – 1:46:16. Well done ladies.
A BIG thankyou for the Sportive
Thankyou for your support again for this years Sportive back in May 2016 This years event managed to raise £6322 for the East Anglian Air Ambulance, £5322 of which was raised by the IRC and the helicopter was able to land and stayed with us for a few hours enabling everyone to meet the crew and doctors on board . We had various craft stalls and fairground rides including mini Go Carts and Bouncy Castles as well as a British Cycling Go Ride where the younger riders could practice their skills around a track. This year we also had 3 Live Bands including a Jazz Band and Salsa band from Redborne School and a local Rhythm and Blues Band with our very own Paul Taylor on drums.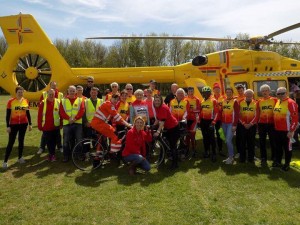 Track Racing
Check out Anna's interview with BBC London at the Lea Valley Velodrome.
BBC London Interview
Facebook
We now have over 100 on our  Facebook Group, its very busy! Any comments or messages you want to make quickly or exchanges you can use that. Try it. 
FACEBOOK ICKNIELD GROUP
Club Clothing
The next delivery from Endura is 1st February 2017. This time you must pay in full to take items, as it gets untidy keeping track of so many orders, part payments and IOUs. Prices will be finalised very soon and put on the website in the clothing page. Old stock is now held by Debbie Newell, currently NOT with Tom at
Flitwick Cycleworx
. The list of stock is accessible through the clothing page.