Interclub Hill Climb
And here are the results.
Result Sht Order 2015A
. And the front sheet.
Hill Climb Front ShtR 2015
. Great conditions and with over 60 riders the best turnout since the interclub started back in the late 90s.Will take place on Sunday October 4th, first rider 10:31am. We have about 60 riders, so expect an interesting and exciting morning. Sign on from 10am The Chequers, Public House, Sharpenhoe Road, Streatley, LU3 3PS. Download the
Front Sheet
and
rider list.
Charity 10 Mile Time Trial
We had 138 riders on the startsheet. Conditions were good and by all accounts most enjoyed the day and got the ride they wanted. A good selection of photographs taken by Harry are in the gallery. We all raised £750 to go jointly to the Keech Hospice and the East Anglian Air Ambulance. Hope to see you all again next year.
The course is the F11/10
, 
ENTER.
Or you can download a form from
HERE
.
Introduction
We are a cycling club based in Ampthill & Mid-Bedfordshire of about 120 members.
The club is involved in time trialling, cyclo-cross, road and track racing, social activities, youth hostelling weekend. We provide on and off-road activities under the supervision of experienced cyclists and qualified coaches and work with local schools to deliver British Cycling Go-Ride cycling activities. If you want to ride with an experienced yet sociable band of riders, who will still wait for you if you puncture, then ride with the Icknield. Come along to one of our Tuesday evening club nights or turn up at a club run to find out more. We welcome new members whether experienced or new to the sport of cycling.The Club room at
Redborne Upper School
in Ampthill provides us all with a base to meet up and chat about cycling or organise forthcoming trips or events. Its also our base for our Tuesday evening time trial series.
We are a Go Ride Club. Find out what it's about and how you can take part. Also, Icknield Road Club members can get Free British Cycling Membership. Ask our BC Secretary Ray Morgan for information about this.
Facebook
We now have over 100 on our  Facebook Group, its very busy! Any comments or messages you want to make quickly or exchanges you can use that. Try it. 
FACEBOOK ICKNIELD GROUP
Sportive 2015 2nd May
What a success! All the photos can be see in the gallery. Your finish times can be found in this link from 
Race Timing Solutions
. Thanks to everyone who helped and well done to all those who took part!
Tuesday Evening Time Trials
Please note the change of schedule from that planned a couple of months ago. All the results are up to date. This has been a very successful season so far, with regular attendance of  over 30. You are advised to use a rear light, and are strongly recommended to wear an approved helmet. Register from 18.30 approx at the Culcheth Centre, Redborne Upper School (south site), MK45 2NU. Ample parking is available on site. We look forward to seeing you there.
Club Clothing
The latest order will be available 15th September. Stock is now held with Tom, at
Flitwick Cycleworx
. Please go to his shop to pick up your items. The list of stock is accessible through the clothing page.
Trip to the Olympic Velodrome
Young members trip to the track, and to meet Pro Cycle Team Movistar rider Alex Dowsett.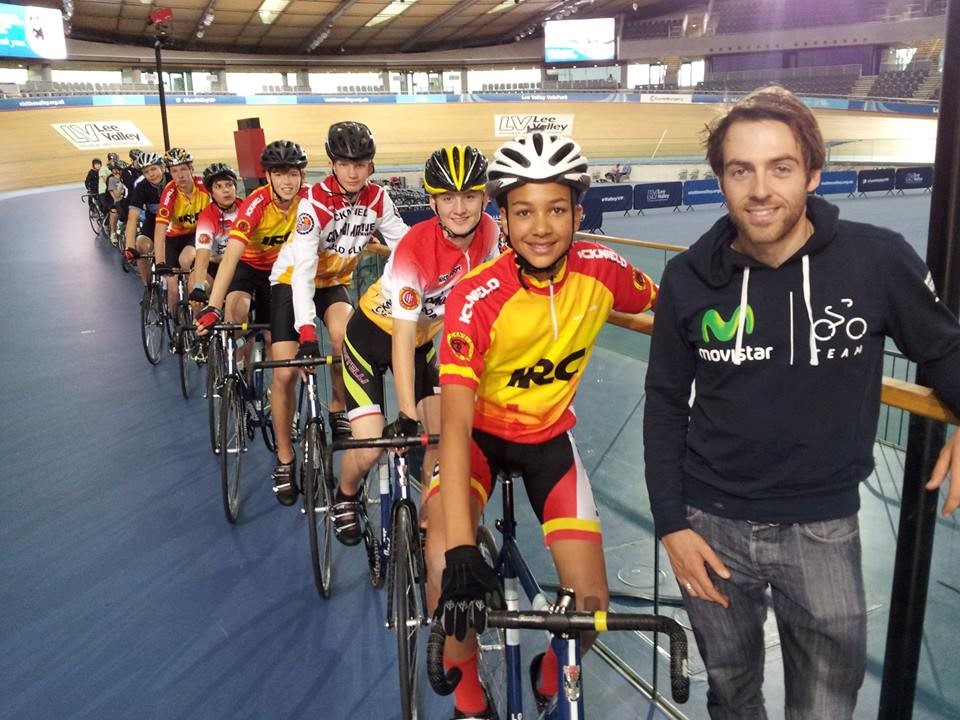 Fame at Last
Here you see Cav getting Roy's autograph.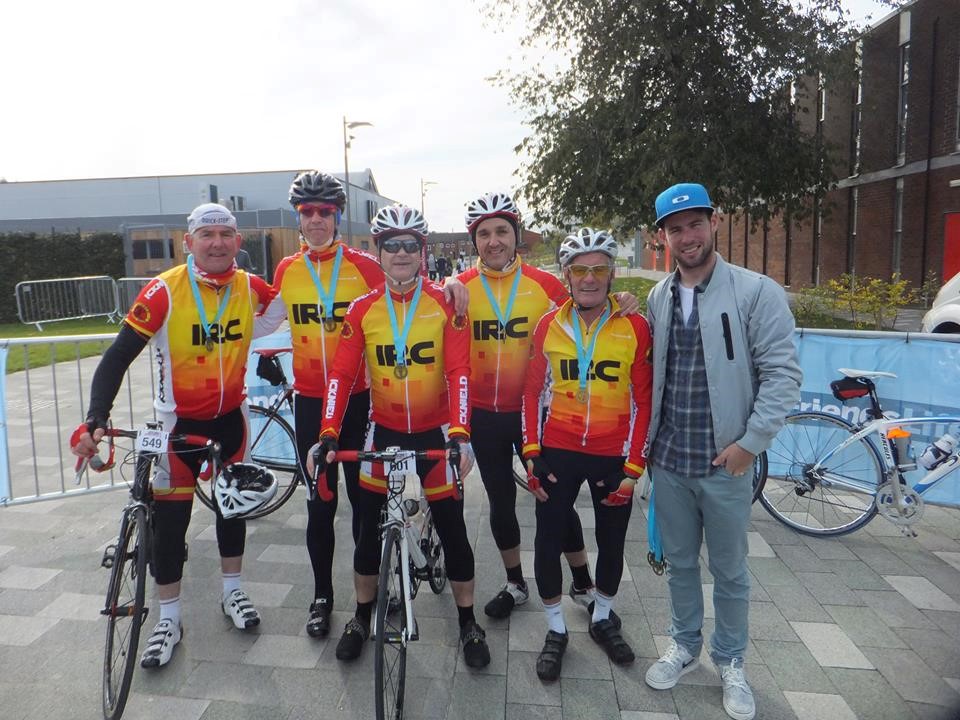 Chute! at Carrefour de l'abre
Seems that the IRC had a bit of trouble at the Carrefour de l'abre during the Roubaix trip. Hope the team car got to you all quickly, replaced your wheels and got the plasters out.