We are a cycling club based in Ampthill and Luton, Bedfordshire of about 120 members. The club is involved in time trialling, cyclo-cross, road and track racing, social activities, youth hostelling weekends and other events. We provide on and off-road activities under the supervision of experienced cyclists and qualified coaches and work with local schools to deliver Go-Ride cycling activities following the British Cycling plan. If you want to ride with an experienced yet sociable band of riders, who will still wait for you if you puncture, then ride with the Icknield. Come along to one of our Tuesday evening club nights or turn up at a club run to find out more. We welcome new members whether experienced or new to the sport of cycling. The Club room at Redborne Upper School in Ampthill provides opportunities for indoor training under the supervision of our qualified coaches whilst the club time trial courses which we use from April are just 5 minutes ride away.
We are a Go Ride Club. Find out what it's about and how you can take part Also, Icknield Road Club members can get Free British Cycling Membership. Ask our BC Secretary for information.
Racing

InterClub Hill Climb is Sunday October 6th, Moleskin, Sharpenhoe at 10:30am. Last of the interclub series, your involvement is important to try and take a better position in the rankings against Beds Road, CC Ashwell and Hitchin Nomads. To ride send an email or give Peter Jones a call.
All the latest evening time trial series are available. CLICK HERE to link to the page.
Photos from the Open 100 event are CLICK-HERE by Hillary Jones.
Club time trials on Tuesday evenings have gone well with rider numbers improving as the weather has turned warmer. Results are here on the website within a few days. Don't forget your compulsory light and helmet.
Browser Compatibility

This website does not work properly with Explorer 8. Explorer 9, Firefox and Chrome are fine.
Club Clothing

Endura supply our clothing. Members get a discount on list prices in the Endura custom range 2013. Contact Tim Davies if you need something. We have a reasonable stock in all sizes, except XL and XXL, which would make great Christmas presents. You can see examples of it being worn in the current riders section under the 'Album' tab, above.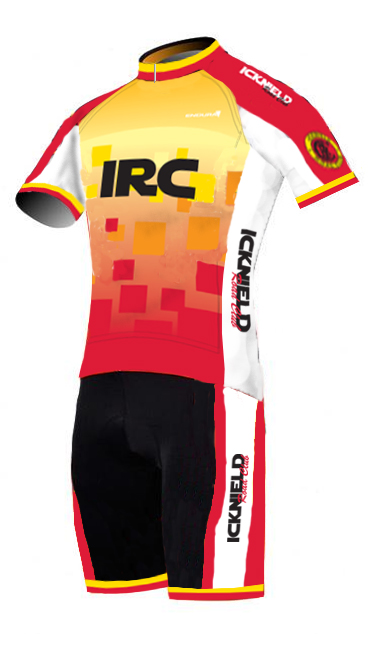 Club Kit Design


Facebook

We now have over 100 members and associates in our Facebook Group.
Any comments or messages you want to make quickly – use that. Please remember that this group is open to members to use and does not represent the views of the club committee. Currently it is administered by Ray Morgan & Tim Davies, who may approve new members to the group & remove offensive or inaccurate posts.
Try it. FACEBOOK ICKNIELD GROUP